I ran across this image the other day from last year's HR Technology Conference. It reminded me of the times when an employee has said to me, "My manager is out to get me."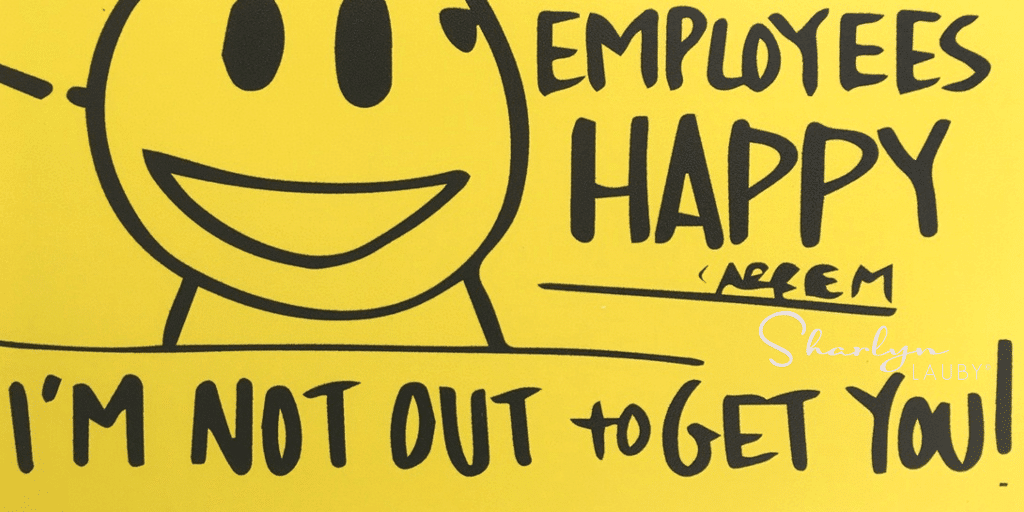 In fact, I was conducting a training session with a group of managers recently and someone asked about having HR in the room when managers are coaching employees. My thought on this is "No, HR should not be in the room" when a manager is coaching an employee. Maybe if a manager is disciplining an employee. But not coaching. It sends the wrong message and can imply that the process of being performance managed out of the company has begun.
(Side note: Don't take that last sentence as a bad thing. Sometimes, companies want to send that message. And HR plays a role in doing it. But those moments must be used strategically.)
The whole notion of having a witness during coaching implies that coaching means something bad is going to happen. Coaching isn't punishment. Coaching is a two-way discussion that's focused on holding people accountable.
Accountable for following organizational rules, policies, and procedures.
Accountable for delivering excellent customer service.
Accountable for creating outstanding products and services.
Accountable for being a team player and collaborator.
…and the list goes on. You get the point.
I sometimes wonder if when employees say, "My manager is out to get me.", they really mean, "My manager is holding me accountable. And I don't like it." I know accountability is easy when we do something awesome and less easy when we don't. As employees, we need to realize that accountability conversations will happen.
And as managers, we need to understand how to hold people accountable in a respectful way. Because at some point, employees are going to hold managers accountable for supporting them.
Bottom-line: If you want to hold others accountable, you have to be willing to hold yourself accountable. It's like respect. If you want people to respect you, then you need to be respectful. Now that doesn't mean we have to be perfect. Everyone makes mistakes. The key is to be willing to take responsibility for our actions.
Image captured by Sharlyn Lauby at the HR Technology Conference in Chicago, IL
6